Scottsdale Dog Parks
Chaparral Dog Park

5401 N. Hayden Rd, Scottsdale, AZ

Note:

This fenced in dog park has a separate small dog area, an area at rest, benches, drinking fountains, and lights for night use.
Horizon Dog Park

15444 N. 100th St, Scottsdale, AZ

Note:

This fenced dog park has drinking fountains, special watering system to keep the dust down, and shade.
Pet Clinics in Scottsdale, AZ
Adobe Animal Hospital
7712 E. Indian School Rd, Scottsdale, AZ

PH: (480) 990-9561
Animal Medical And Surgical Center
17477 North 82nd Street, Scottsdale, AZ

PH: (480) 502-4400
Aztec Animal Hospital of Scottsdale
8140 E. McDowell Rd, Scottsdale, AZ

PH: (480) 945-6800
Scottsdale Cat Clinic
4002 N. Miller Rd, Suite 100, Scottsdale, AZ

PH: (480) 970-1175
Scottsdale Ranch Animal Hospital
9993 N. 95th Way, Scottsdale, AZ

PH: (480) 391-3699
VCA Paradise Valley Emergency Animal Hospital
6969 East Shea Boulevard, #225, Scottsdale, AZ

PH: (480) 991-1845
Scottsdale Pet Shelters
Arizona Animal Welfare League
Founded in 1971, The Arizona Animal Welfare League and SPCA is the state's oldest and largest no-kill shelter. Our shelter facilities provide a temporary home for nearly 2,600 dogs and cats every year, offering medical and behavioral treatment for those in need.
Contact:
30 North 40th Place, Scottsdale, AZ
(602) 273-6852 (Phone)
Pet Friendly Hotels Scottsdale, AZ
You've been anticipating your well-deserved vacation for months now: daydreaming about poolside relaxation, fine dining, and warm nights spent under the cover of the starry Arizona sky. But when you grab your suitcases on the way out the door, you can't help but notice the sad eyes and lonesome whimper of your beloved pet. How can you possibly leave poor Fido or Fluffy alone? Fear not! Scottsdale (with its countless offerings of pet friendly resorts, restaurants, parks, and other venues) is truly an ideal travel destination for animal lovers.
(read more)
Not only are most Scottsdale resorts and hotels willing to accommodate pet, but very many also go above and beyond to make your furry friend's stay as pleasant as your own. Upon check-in, the front desk or concierge will greet your pet with complimentary treats and fresh water. Although your pet should never be left unattended, you may certainly opt to take a stroll across the grounds of your hotel of choice. If you decide to take a break from your animal's company, pet sitters are often available on a 24-hour basis. Want to gift your pet with the ultimate indulgence? Some hotels even offer an in-room massage for your pet. Regardless of which pet friendly resort you choose, Scottsdale will welcome human and animal visitors alike with open arms and Southwestern warmth.
(read less)
Scottsdale Pet Friendly Hotels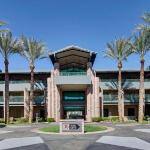 7320 East Camelback Road, Scottsdale, AZ
Pets may be accepted. Please contact the hotel directly for full details.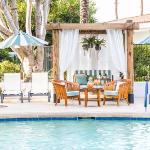 4925 North Scottsdale Road, Scottsdale, AZ
9550 East Talking Stick Way, Scottsdale, AZ
Pets Allowed. Max Size: Large - 50 lbs 50.00 USD Non Refundable Fee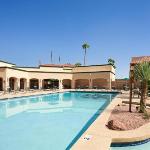 7330 North Pima Road, Scottsdale, AZ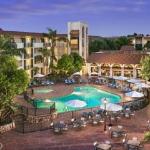 5001 Scottsdale Road, Scottsdale, AZ
All dogs are welcome. Limit one dog per suite per stay. A non-refundable one time fee per pet per stay of 25 USD plus tax will be charged. D...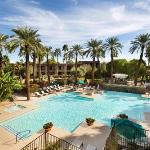 5401 North Scottsdale Road, Scottsdale, AZ
PETS ALLOWED. MAX WEIGHT 75LBS. 75USD DEPOSIT REQUIRED. NON-REFUNDABLE. Bowls and Beds Limited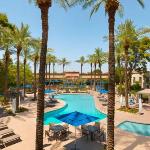 6333 North Scottsdale Road, Scottsdale, AZ
Pets Allowed. 75.00 pet fee required.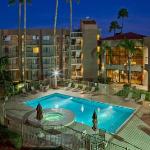 7515 East Butherus Drive, Scottsdale, AZ
Pets accepted. 20.00 USD per day. Up to two dogs per room with an 80 lb. weight limit per animal, maximum of 100 USD weekly. Other pet types...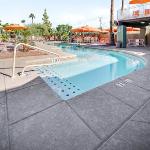 7707 East McDowell Road, Scottsdale, AZ
6850 East Main Street, Scottsdale, AZ
View all Pet Friendly Hotels in Scottsdale