Emergency clinics
If the pet travels with you, it will retain a sense of identity. However, pets can become frightened and bolt away from you out of open doors and windows. Keep your pet on a leash when outside your car or hotel.
Feeding your pet
Occasionally traveling can upset your pet's stomach. Take along ice cubes, which are easier on your pet than large amounts of water. It is recommended that you keep feeding to a minimum during travel. If you are traveling by car, a light meal for your pet two to three hours before you leave is advised. If you are traveling by air, a light meal four to six hours before departure is recommended. Allow small amounts of water periodically in the hours before the trip.
I.D. for your pets
Whether your pet travels with you or by another means it should wear a special identification tag in addition to its regular one. Write the pet's name, your name, the person to contact at the destination, their phone number, a destination address, or that of a friend or relative, in case you want to be reached.
Make sure to get their shots
Rabies vaccinations are a must for all travel abroad. Many airlines also require vaccinations. Check with your vet for the complete range of vaccinations required, and of course, check with the airline and country to which you're heading.
Airline requirements
Check the airline's requirements to see if your pet can travel in a carrier that can be kept under a seat in the cabin or must travel by air freight.
Get there early
Get the pet to the air terminal in time. Get there 45 minutes in advance if the pet is accompanying you. If shipping the pet, get to the flight terminal two hours in advance of your flight.
Pet Friendly Hotels Los Angeles, CA
Your pets are part of your family, so why leave them at home when you go on vacation? Los Angeles, California is a great place to vacation with your pets. Since so many of the city's attractions are outdoors, and since so many establishments in the city are pet-friendly, there's absolutely no reason NOT to bring your furry friends.
Don't want to walk through Los Angeles alone? Your dog makes an ideal companion on the famous LA beaches and boardwalks and even at outdoor cafes. LA can also be a great getaway for your pet, since the city plays host to so many unique pet boutiques including pet clothiers, groomers and even perfumers.
(read more)
If you want to bring your pet with you to Los Angeles, CA, then the first critical step is to find pet friendly hotels. You might be surprised by how many upscale hotels not only allow but welcome guests with pets. Both you and your loyal friend can rest and relax with comfort when you choose an establishment that's fully prepared to cater to both of your needs.
To simplify your search, we've compiled a list of Los Angeles, CA's best pet-friendly hotels. Now all you have to do is find the one that appeals to you most.
(read less)
Los Angeles Pet Friendly Hotels
2680 32nd Street, Los Angeles, CA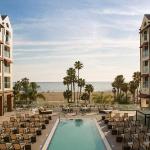 1700 Ocean Avenue, Los Angeles, CA
Hotel accepts two pets per room with one time 100USD non-refundable fee.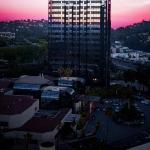 555 Universal Hollywood Drive, Los Angeles, CA
Pets Allowed. Max Size Large- 75lbs. Non-refundable 50.00 USD pet fee required. Limited pet bed/bowl available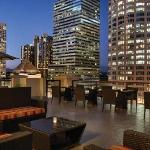 535 South Grand Avenue, Los Angeles, CA
Pets Allowed. Max Size Medium - 55 lbs. Non-refundable 75.00 pet fee required.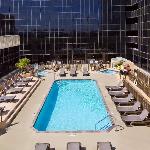 5711 West Century Boulevard, Los Angeles, CA
Pets: Allowed Maximum size: Large Maximum weight: 75 lbs Pet Service Fee: USD 50.00 Non-Refundable Fee Kennel: Bed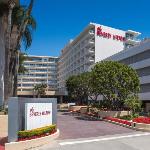 9876 Wilshire Boulevard, Los Angeles, CA
Pets Allowed. Max Size Large - 75 lbs. 50.00 USD non-refundable fee.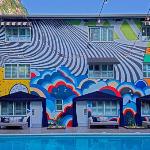 8462 Sunset Boulevard, Los Angeles, CA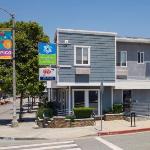 3102 Pico Boulevard, Los Angeles, CA
Pets less than 20 pounds accepted based on availability of the pet suites.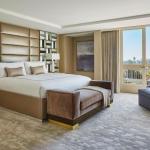 9291 Burton Way, Los Angeles, CA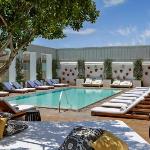 8440 Sunset Boulevard, Los Angeles, CA
View all Pet Friendly Hotels in Los Angeles