Orlando Dog Parks
Barber Dog Park

3701 Gatlin Ave, Orlando, FL

Note:

This dog park has a separate small dog area, agility equipment, and shade trees.
Barnett Dog Park

4801 W. Colonial Drive, Orlando, FL

Note:

this fenced dog park is located behind the Central Florida fairgrounds
Downey Dog Park

10107 Flowers Ave, park at East Colonial Dr, Orlando, FL

Note:

This dog park has a separate small dog area, benches, trees, and drinking fountains.
Meadow Woods Dog Park

1751 Rhode Island Woods Circle, Orlando, FL

Note:

Fenced dog park
Pet Clinics in Orlando, FL
Corrine Drive Animal Hospital
2905 Corrine Drive, Orlando, FL

PH: (407) 895-3774
East Orlando Animal Hospital
7600 Lake Underhill Road, Orlando, FL

PH: (407) 277-3497
John Young Parkway Animal Hospital
4020 North John Young Parkway, Orlando, FL

PH: (407) 295-4482
Kirkman Area Animal Clinic
5633 Metro West Blvd, Orlando, FL

PH: (407) 295-7547
South Orlando Animal Hospital
11265 S. Hwy 441, Orlando, FL

PH: (407) 855-1297
Underhill Animal Hospital
490 Lake Underhill Rd, Orlando, FL

PH: (407) 277-0927
Orlando Pet Shelters
Humane Society of Orlando
The SPCA of Central Florida - We're your local Humane Society?saving pets since 1937!
Contact:
2727 Conroy Road, Orlando, FL
(407) 351-7722 (Phone)
Pet Friendly Hotels Orlando, FL
Embarking on a vacation to Orlando, FL, means heading into warm, subtropical climes and plenty of attractions to fill the days. But when we want to bring our pets along for the trip, there are special considerations and some are points specific to Orlando. With a little preparation, your Florida trip should be fun for both you and your companion.
Finding a hotel in Orlando that allows pets is only the first step. It's important to note that while some hotels do allow pets but do not really go out of their way to make them feel welcome, many hotels in Orlando have special amenities just for the four legged guests. Some hotels do go above and beyond, offering treats, a special fenced in pet area, doggy beds and food bowls. Several of the hotels near the attractions have dog walking areas near the hotels and a couple even feature dog-specific room service menu items.
(read more)
One key consideration is that Orlando hotels often have limitations on the size of dog that can be allowed, and while some hotels in other cities consider large dogs to be 'larger than 70 pounds', the limitation here can be no dogs over 30 pounds. Check ahead of time to make sure that your companion will be accommodated.
Also, remember that Florida is a subtropical climate with heavy humidity. Just as with humans, pets who have special health conditions or are overweight may need additional care and considerations. Walking your pet in Orlando may be best done in the earlier, cooler part of the day. Major theme parks can become quite hot and crowded at peak times, so any pets should be allowed to cool off as much as possible. Keeping pets cool and happy is a vital piece of pre-business planning that should help you and your pet avoid any problems.
Since the city of Orlando is situated so much around travelers attending the major parks, do a little reconnaissance ahead of time to make sure there are nearby emergency vet facilities near your hotel as well.
(read less)
Orlando Pet Friendly Hotels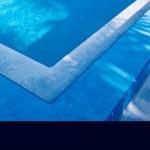 9301 South Orange Blossom Trail, Orlando, FL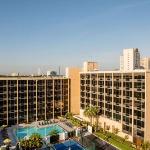 7299 Universal Boulevard, Orlando, FL
Pets allowed based on the availability of pet friendly rooms. Up to 2 dogs per room with a 80 pound weight limit. Additional pet types (ca...
7675 Irlo Bronson Memorial Highway, Orlando, FL
Pet Accommodation: 75.00 per stay (non-refundable) up to 7 nights. Additional charges apply if staying longer. Pet Limit: 2 per room, up to ...
5995 West Irlo Bronson Highway, Orlando, FL
Pet Accommodation: 50.00 USD tax per stay Pet Limit: maximum 40 pounds, 2 pet per room.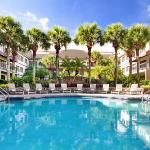 7550 Augusta National Drive, Orlando, FL
One cat or one dog weighing up to 40 pounds is allowed per guest room. A waiver must be signed at check-in.? A refundable deposit of 150 USD...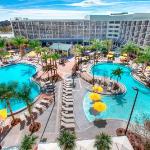 12205 S. Apopka - Vineland Road, Orlando, FL
Dogs up to 60 pounds are allowed. Please note that guests must sign a waiver upon check-in and may be charged a fee for additional cleaning ...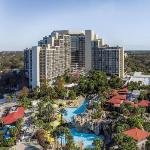 One Grand Cypress Boulevard, Orlando, FL
1-6 nights, a $150 non-refundable pet fee will apply. 7-30 nights, a $300 non-refundable pet fee will apply. Only dogs weighing 50 lbs and ...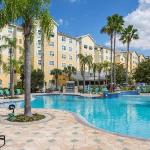 11000 Westwood Boulevard, Orlando, FL
USD 125 non-refundable cleaning fee Per Stay; maximum weight per pet is 30 pounds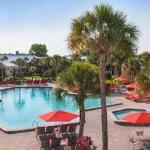 8001 International Drive, Orlando, FL
$50 non-refundable fee required. Limit of 1 pet up to 60 lbs.
8686 Palm Parkway, Orlando, FL
2 Pet Max. No Aggressive breeds, under 45 lbs. Maximum pet weight: 45.0 (Pounds) Non-refundable pet fee: 350.0 (U.S. Dollar) Per Stay
View all Pet Friendly Hotels in Orlando