Atlanta Dog Parks
Atlantic Station

State st, in between 16th and 17th street, Atlanta, GA

Note:

Small off-leash dog park. It has grass and some benches. It's not very big, so it's not really a great place to take you dog for retrieving a ball and it's good for Fido to make friends.
Grant Park

Corner of Berne St and Boulevard , Atlanta, GA

Note:

Off leash Dog Park
Henry Jones Dog Park

4770 N. Peachtree Rd, Atlanta, GA

Note:

Dog Park
Park Grounds

142 Flat Shoals Ave SE, Atlanta, GA

Note:

This is a fully fenced dog park at the coffee shop. They have food and drinks and WiFi available. Pit Bulls and Pit mixes are not allowed: pitpolicy@parkgrounds.com
Piedmont Park

10th Street and Monroe Drive, Atlanta, GA

Note:

This dog park will relocate (July 2010) and will have a separate small dog area and drinking water for the dogs and has mulch ground cover.
Pet Clinics in Atlanta, GA
Ambery Animal Hospital
1400 Howell Mill Rd, Atlanta, GA

PH: (404) 351-5960
Ansley Animal Clinic
593 Dutch Valley Road, Atlanta, GA

PH: (404) 873-1786
Briarcliff Animal Clinic
1850 Johnson Road NE, Atlanta, GA

PH: (404) 874-6394
Buckhead Animal Clinic PC
1911 Piedmont Circle Northeast, Atlanta, GA

PH: (404) 873-3771
East Atlanta Animal Clinic
461 Flat Shoals Ave SE, Atlanta, GA

PH: (404) 523-8765
Inman Animal Hospital
926 DeKalb Avenue, Atlanta, GA

PH: (404) 584-8761
Peachtree Hills Animal Hospital
2909 Peachtree Road Suite G, Atlanta, GA

PH: (404)812-9880
Vernon Woods Animal Hospital PC
270 Vernon Woods Drive NE, Atlanta, GA

PH: (404)252-1641
Atlanta Pet Shelters
Atlanta Pet Rescue & Adoption
ACRF offers a non-institutional option for aging, terminally ill, or incapacitated pet owners to arrange for the care of their pet since many people do not have other options for their pets.
Contact:
P.O. Box 76383, Atlanta, GA
(404)256.1040 (Phone)
Pet Friendly Hotels Atlanta, GA
Atlanta is a great destination, whether you are traveling for business or recreation. But when traveling with your lovable companions, there are some considerations to be aware of. Atlanta is a Southern city, meaning that the climate, while not tropical, is still generally hotter and much more humid than areas in the North. Pets who are accustomed to living in cooler climates may need special consideration. This is especially true if your pet has problems with obesity, or if your pet has a heavy fur coat that needs trimming.
While there are plenty of options for travelers heading in to Atlanta with their pets, be aware that different areas of the city have specific nuances. Some areas downtown are extremely heavy in traffic and pedestrians, however outlying areas may offer a little better opportunity if you need to exercise your pet. Calling ahead to the specific hotel may tell you if other guests had similar problems. It's also important to find out about the hotel's exact policies regarding pets, simply because some hotels have not caught on to the fact that more travelers now bring their beloved pets with them on the road.
(read more)
There are a few parks in the Atlanta area, so perhaps staying nearby will allow you to access a convenient option.
If flying in to Atlanta, it's a good idea to obtain a signed health certificate from your pet's veterinarian before traveling.
(read less)
Atlanta Pet Friendly Hotels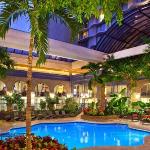 165 Courtland Street, Atlanta, GA
We are pleased to welcome dogs 40 pounds or less, with a maximum of two dogs per guest room. Dogs must be on a leash?and in their owner's co...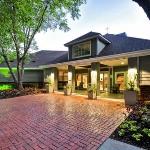 3200 Cobb Parkway, Atlanta, GA
PETS ALLOWED - MAX SIZE: MEDIUM - 50LBS (PET FEE IS 25.00 USD PER NIGHT UP TO 100.00 USD) 75.00 USD NON-REFUNDABLE FEE REQUIRED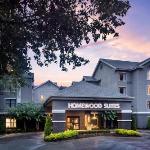 3566 Piedmont Road, Atlanta, GA
PETS ALLOWED - Max Size Medium 50 lbs 100.00 USD non refundable pet fee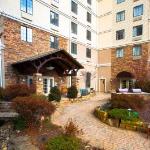 540 Pharr Road, Atlanta, GA
Pets allowed with nonrefundable fee 75 for 1 to 6 nights and 150 for 7 plus nights Each pet must weigh less than 80lbs Call hotel for de...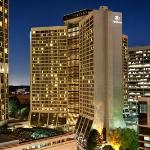 255 Courtland Street Northeast, Atlanta, GA
Pets allowed. Maximum weight 75lbs. Maximum Size LARGE. 75.00 non-refundable fee.
311 Courtland Street Northeast, Atlanta, GA
Maximum 2 pets per room. Service Animals and well-behaved pets are welcome, unless they pose a health or safety risk or are prohibited by la...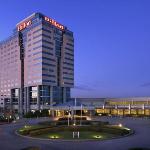 1031 Virginia Avenue, Atlanta, GA
PETS ALLOWED. 75 LBS Large. Non-refundable 50.00 pet fee required. Bed and Bowls Limited.
6120 Peachtree Dunwoody Road, Atlanta, GA
Pets Allowed . Max Size: Large - 50lbs -75 Non-Refundable Pet Fee Required-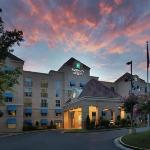 4700 Southport Road, Atlanta, GA
PETS ALLOWED - 75 Pounds Max. 50.00 non-refundable fee Required.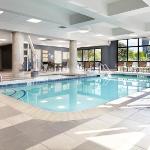 2815 Akers Mill Road, Atlanta, GA
PETS ALLOWED: MAX SIZE - 75 LBS MEDIUM 50.00 NON-REFUNDABLE FEE
View all Pet Friendly Hotels in Atlanta