Indianapolis Dog Parks
Broad Ripple Dog Park

1550 Broad Ripple Avenue, Indianapolis, IN

Note:

Each dog park in the area requires a different dog park tag. To get a daily or yearly dog park pass you must go to the family center office on the park grounds and bring a copy of rabies, parvo, distemper, and bordetella shots. There is an application and waiver and a fee, for any questions call (317) 327-7161.
Pet Clinics in Indianapolis, IN
Broad Ripple Animal Clinic PC
6225 North Broadway, Indianapolis, IN

PH: (317)257-5334
Indiana Veterinary Specialists and Emergency Center
8250 Bash St, Indianapolis, IN

PH: (317)841-3606
Leo's Pet Care
10598 N College Ave Ste 200, Indianapolis, IN

PH: (317) 721-7387
Michigan Road Animal Hospital
7720 North Michigan Road, Indianapolis, IN

PH: (317)291-3932
Noah's Animal Hospital & 24 Hour Emergency Center
5510 Millersville Road, Indianapolis, IN

PH: (317)253-1327
Pet Pals Veterinary Hospital and House Calls
8503 Westfield Blvd, Indianapolis, IN

PH: (317)257-1761
The Cat Doctor
5654 North Georgetown Road, Indianapolis, IN

PH: (317)291-2287
The Paw Patch
8028 S Emerson Ave, Indianapolis, IN

PH: (317)851-5000
Indianapolis Pet Shelters
Humane Society of Indianapolis
The Humane Society of Indianapolis is the leading voice for the welfare of animals and improving their quality of life. IndyHumane is the first choice in providing direct services for shelter cats and dogs, including adoption, foster home placement, behavior training, appropriate medical care, and affordable spay/neuter services.
Contact:
7929 Michigan Road, Indianapolis, IN
(317) 872-5650 (Phone)
Pet Friendly Hotels Indianapolis, IN
For a pet-lover, pets are part of the family. You wouldn't dream of leaving a family member behind when going on a vacation or trip. Unfortunately, not everyone feels the same way about our furry friends. Finding a pet-friendly hotel can be a bit of a challenge. You want the best accommodations for your four-legged family member. Traveling with a pet doesn't have to be an inconvenience.
(read more)
If you are traveling to Indianapolis, home of the Colts, finding a pet friendly hotel is easy. Whether you are staying in a hotel, motel, or bed and breakfast, there are many options in the area. You can find plenty to do here, as well. There are multiple pet parks and pet-friendly beaches. There are even outdoor dining restaurants for pets. There are pet spas and pampering packages designed to spoil your pet. Some hotels and resorts offer pet sitting services. Make sure your next vacation isn't just your vacation, but your pet's vacation, too.
Always remember to keep your pet safe during travel. Place an indentification tag on your pet. If you are traveling by car, always keep your buddy on a leash during potty breaks. You wouldn't want your special friend getting lost in another state!
(read less)
Indianapolis Pet Friendly Hotels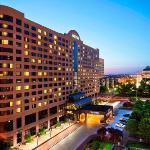 50 S. Capitol Avenue, Indianapolis, IN
Westin has gone to the dogs. We welcome your canine companion (up to 40 pounds) and offer your pet the use of a Heavenly? Dog Bed and water ...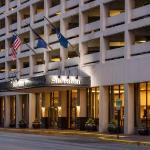 31 West Ohio Street, Indianapolis, IN
Hotel accepts dogs only.?No dogs over?40 pounds are allowed.?Restrictions may apply to certain breeds.?Please contact hotel directly for add...
120 West Market Street, Indianapolis, IN
Pets Allowed. Max Size: Large - 75 lbs. Non-refundable 50 usd pet fee required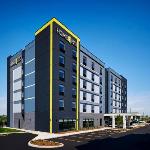 9104 Keystone Crossing, Indianapolis, IN
Pet Policy - 1-6 nights, a 75 non-refundable fee; 7-30 nights, a 75 non-refundable plus a 100. cleaning fee will be administered -inclusive ...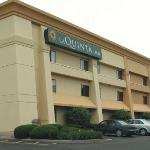 2650 Executive Drive, Indianapolis, IN
Pets stay FREE and no pet deposit is required. Cats and dogs up to 50 pounds are welcome in guest rooms. Housekeeping services for rooms wit...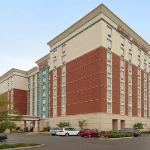 8180 North Shadeland Avenue, Indianapolis, IN
PETS ARE ACCEPTED AT ALL DRURY HOTELS IF STATE AND LOCAL LAWS PERMIT. PETS ARE NOT ALLOWED IN THE BREAKFAST AREA OF THE HOTEL. PETS ARE NO...
50 West Washington Street, Indianapolis, IN
PETS ACCEPTED. MAX 50 LBS. non-refundable fee OF 250.00 USD REQUIRED. Pet menu available.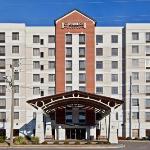 535 South West Street, Indianapolis, IN
Dogs are allowed. There is no pet fee. There is a $10 a day parking fee though.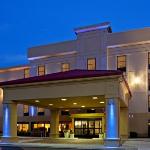 5151 South East Street, Indianapolis, IN
Pets allowed with 50.00 non refundable fee. Guest's must stay on 1st floor only. Please notify the Front Desk upon arrival.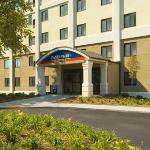 1152 North White River Parkway, West Drive, Indianapolis, IN
Cats and dogs are allowed with a nonrefundable pet fee of 75.00 dollar per pet. Each pet must weigh less than 80lbs. Pet agreement must be...
View all Pet Friendly Hotels in Indianapolis