Louisville Dog Parks
Champions Dog Park

Zorn Ave and Hwy 71, Louisville, KY

Note:

This dog park has benches and drinking water. The permits can be obtained from Louisville Dog Run Association and the money helps maintain the park. To obtain a permit the dog must have proof of vaccination. Day permits are also available. Fees: $30 annually
Pet Clinics in Louisville, KY
Auburndale Animal Hospital
7136 Southside Dr, Louisville, KY

PH: (502) 361-2622
Breckenridge Animal Hospital
3451 Breckenridge Lane, Louisville, KY

PH: (502) 491-5800
Gailor Animal Hospital
7422 3rd Street Road, Louisville, KY

PH: (502) 367-6400
Jefferson Animal Hospital & Emergency Center
4504 Outer Loop, Louisville, KY

PH: (502)966-4104
Jefferson Animal Hospital East
5400 Del Maria Way , Louisville, KY

PH: (502)499-6535
Johnson's Animal Clinic
3838 Taylorsville Rd , Louisville, KY

PH: (502) 456-2870
Louisville Pet Shelters
Kentucky Humane Society
The Kentucky Humane Society (KHS) advocates the humane treatment of companion animals through leadership and proactive solutions to pet overpopulation, including adoptions, education and spay/neuter efforts.
Contact:
Not Available, Louisville, KY
(502) 366-3355 (Phone)
Pet Friendly Hotels Louisville, KY
Visitors to Louisville, Kentucky who are traveling with their animals need not worry about finding a place for their pet, as Louisville is one of the most pet-friendly cities to be found. While Louisville?s list of pet-friendly hotels is impressive, it is also a city full of green spaces perfect for walking dogs on a leash. For those pet owners who want their dogs to have the chance to run around, the city also boasts three off-leash dog parks. Many restaurants and coffee shops in Louisville have outdoor seating, and even dogs can eat out with a Louisville bakery that focuses on all natural foods and treats for canines.
(read more)
One thing about Louisville that makes it a perfect vacation destination for those traveling with animals is the amount of pet-friendly hotels and motels the city has to offer. Each hotel has their own pet policy, including specific criteria on the amount of pets allowed per room and the maximum weight. Some hotels charge a flat-fee regardless of how long the room will be used, while others charge per night. If planning on taking an animal on a visit to Louisville, KY, it is suggested to compare rates and policies at all the pet-friendly hotels to find the one that best suits your needs.
(read less)
Louisville Pet Friendly Hotels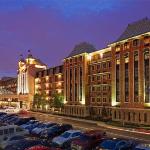 830 Phillips Lane, Louisville, KY
Pets allowed with a 150.00 dollar non refundable pet fee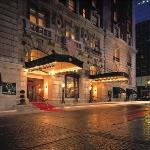 500 Fourth Street, Louisville, KY
PETS ACCEPTED WITH MAX WEIGHT OF 75 LBS. Non Refundable 50.00 Pet fee required. Bed and Bowls limited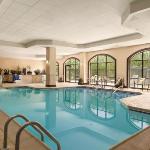 9940 Corporate Campus Drive, Louisville, KY
Service Animal Permited. Pets Allowed: 40 lbs Max Weight, 75.00 USD Non-Refundable Fee.
333 East Market Street, Louisville, KY
USD 100 non-refundable cleaning fee Per Stay; maximum weight per pet is 50 pounds
9400 Blairwood Road, Louisville, KY
Fee: Yes, 10, , per pet, per night Number of pets per room: 2 Weight Limit: 50 pound limit per pet Restriction: domestic pets only Allow pet...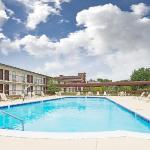 1041 Zorn Ave, Louisville, KY
Up to 2 pets with a max weight of 25 lbs each are allowed per designated room for a non-refundable charge of $10 per pet, per night. Pet San...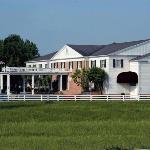 2800 Breckenridge Lane, Louisville, KY
Pets are allowed in the Property with 25 USD fee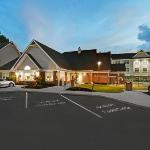 700 Phillips Lane , Louisville, KY
USD 100 non-refundable cleaning fee Per Stay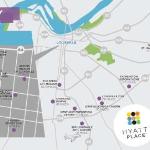 701 South Hurstbourne Parkway, Louisville, KY
Pet Policy (Dogs ony 50 pounds and under) - 1-6 nights, a 75 non-refundable cleaning fee; 7-30 nights, a 75 non-refundable plus a 100. clean...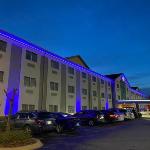 4125 Preston Highway, Louisville, KY
Pets stay FREE and no pet deposit is required. Cats and dogs up to 50 pounds are welcome in guest rooms. Housekeeping services for rooms wit...
View all Pet Friendly Hotels in Louisville