New Orleans Dog Parks
Pet Clinics in New Orleans, LA
Algiers Animal Clinic
3807 General DeGaulle Dr., New Orleans, LA

PH: (504) 364-1556
Audubon Veterinary Hospital
731 Nashville Ave, New Orleans, LA

PH: (504) 891-0685
Crescent City Veterinary Hospital
524 Jefferson Ave, New Orleans, LA

PH: (504) 894-0752
Lakeview Veterinary Hospital,Inc
6245 Memphis Street, New Orleans, LA

PH: (504)482-2173
Magazine Street Animal Clinic
3458 Magazine St, New Orleans, LA

PH: (504) 891-4115
Nola Animal Clinic
4554 Downman Rd, New Orleans, LA

PH: (504) 241-6462
Prytania Veterinary Hospital
4907 Prytania st, New Orleans, LA

PH: (504) 899-2828
New Orleans Pet Shelters
Southern Animal Foundation
Southern Animal Foundation is a full-service, low-cost animal hospital and rescue organization whose mission is to provide the highest standard of quality and compassion in veterinary care for a more affordable price.
Contact:
1823 Magazine Street, New Orleans, LA
(504) 671-8235 (Phone)
Pet Friendly Hotels New Orleans, LA
Pet lovers who also love or need to travel frequently can rest easy--there are pet friendly hotels in New Orleans, LA, as well as many other cities across the United States. Traveling with a pet can present its own set of problems, let alone cause pet owners to have to worry about where they can stay with their beloved critters. Many hotels have traditionally been staunchly against having pets of any kind in their rooms. Thank goodness that the last decade or so has seen an explosion in the prevalence of pet friendly hotels and resorts.
There are resorts that not only will allow you to overnight with your pet, but there are also full service "pet resorts" who provide daycare, grooming, training, and boarding services as well. Pet Paradise at the New Orleans Airport is an example of a full-fledged pet resort. And aside from that, it's nice to know that there are hotels all across the land who are as happy to see you as they are your pet.
(read more)
There are plenty of hotels in New Orleans that will happily greet you and your pet. About half of these hotels charge a one-time fee or pet deposit, and the other half don't have any kind of fee. The most expensive is a one-time pet cleaning fee of $150 at the Windsor Court, and the cheapest fee charged by a pet friendly hotel in the Big Easy is a $25 fee per stay at the Lowes Hotel, which also provides pet room service.
So, pet lovers, travel with the peace of mind that comes with knowing both you and your pet will be well taken care of by those who've decided that barring pets is on par with barring their owners, too. Know that when you find yourself down in Cajun Country, there are plenty of New Orleans, LA pet friendly hotels that have prepared a room for you and your beloved, 4-legged companion.
(read less)
New Orleans Pet Friendly Hotels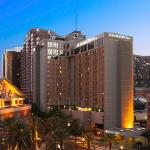 300 Canal Street, New Orleans, LA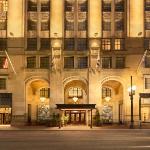 333 Saint Charles Avenue, New Orleans, LA
Pets Allowed. 75 LBS Medium. 75.00 Non-Refundable Fee.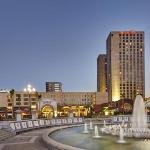 Two Poydras Street, New Orleans, LA
Dogs are allowed free of charge. Pet Sanitation Fee is $25 if applicable. ADA certified service animals are also welcome at this hotel.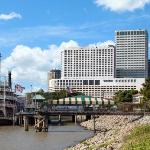 100 Rue Iberville, New Orleans, LA
Dogs?40?pounds and under?are welcome.?Cats and other animals are not permitted. Pets are not allowed in food?and beverage areas?and?the pool...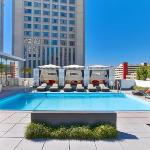 333 Poydras Street, New Orleans, LA
Cats and dogs weighing 40 pounds or less are allowed at the hotel and are welcomed with a treat. Guests must sign a waiver at check-in and w...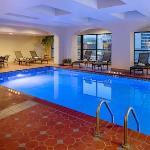 124 Royal Street, New Orleans, LA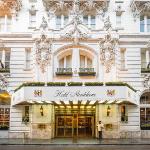 214 Royal Street, New Orleans, LA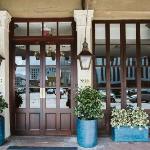 535 Tchoupitoulas Street, New Orleans, LA
First pet is USD 45 second pet is USD 20
114 Magazine Street, New Orleans, LA
Pets allowed based on the availability of pet friendly rooms. Up to 2 dogs per room with a 80 pound weight limit. Additional pet types (ca...
1319 St. Charles Avenue, New Orleans, LA
$50 charge and there is a 40lb. weight limit.
View all Pet Friendly Hotels in New Orleans