Portland Dog Parks
Brentwood Dog Park

SE 60 & Duke, Portland, OR

Note:

The fenced dog park has been adopted by Friends of Brentwood OLA (Off Leash Area).
Chimney Dog Park

9360 N. Columbia Blvd, Portland, OR

Note:

Fenced dog park
East Delta Dog Park

N. Denver & MLK, Jr Blvd, Portland, OR

Note:

Fenced dog park
Gabriel Dog Park

SW 45 & Vermont, Portland, OR

Note:

Fenced dog park
Pet Clinics in Portland, OR
Animal Medical Clinic
1411 SW 14th Ave, Portland, OR

PH: (503) 222-1254
North Portland Veterinary Hospital
3000 N Lombard St., Portland, OR

PH: (503) 285-0462
Pet Samaritan Clinic
2519 East Burnside, Portland, OR

PH: (503) 233-5001
Portland Animal Clinic
1755 SW Madison St, Portland, OR

PH: (503) 228-5256
Rose City Veterinary Hospital
809 SE Powell Blvd, Portland, OR

PH: (503) 232-3105
VCA Raleigh Hills Animal Hospital
4905 SW 77th Avenue, Portland, OR

PH: (503) 292-9227
Portland Pet Shelters
Oregon Humane Society
Oregon Humane Society located in Portland Oregon
Contact:
1067 Northeast Columbia Boulevard, Portland, OR
(503) 285-7722 (Phone)
Pet Friendly Hotels Portland, OR
Often named one of the most "pet-friendly" spots in the country, the city of Portland, OR, has much to offer travelers and their furry friends. Pet-friendly restaurants, breweries, lodging, dog parks, and pet-themed parades and activities are widespread in the city, and pets rarely need to be left at home while owners explore the sights of the city.
Pets are welcomed at many Portland restaurants, bars, and coffee shops, with the Lucky Labrador Brewing Company and Tin Shed Garden Cafe frequently topping the list of the most highly-rated spots to eat and drink with a pet in tow. Many restaurants offer special dog menus with pooch-approved meals, and most include pet-friendly outdoor patio seating.
(read more)
Portland is home to more than 30 dog parks, with off-leash dog parks such as Mount Tabor Park, Chimney Park, and Sellwood Riverfront Park allowing pets to shake out their travel legs in a safe atmosphere. Other more traditional city parks and attractions such as the Hoyt Arboretum and the Rose Gardens allow pets on a leash.
The city boasts two of the country's finest pet-friendly hotels, the Vintage Plaza Hotel and Hotel Monaco Portland. Many Portland hotels offer dog walking services, pet massages, pet-sitting services, grooming, dog beds, and even complimentary treats and toy goodies for furry travelers.
(read less)
Portland Pet Friendly Hotels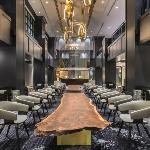 921 Southwest Sixth Avenue, Portland, OR
Pets Allowed. Max Size Large - 75 lbs Non refundable 60.00 usd pet fee required.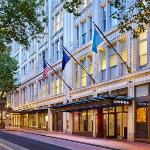 525 Southwest Morrison, Portland, OR
The hotel is delighted to welcome pets to our hotel. We permit one dog (60lbs or less) per room and provide the following amenities for thei...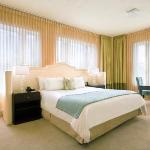 729 South West 15th Avenue, Portland, OR
Pets allowed 45.00USD per pet non refundable pet fee. Maximum 3 pets per room. Please be in the room with your pet or kennel your pet for ho...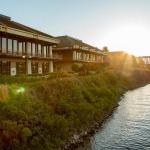 909 North Hayden Island Drive, Portland, OR
Pets accepted, nominal fee. Inquire at the hotel for specifics and exemptions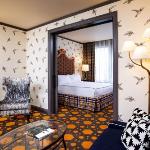 506 Southwest Washington Street, Portland, OR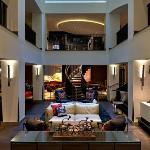 422 Southwest Broadway, Portland, OR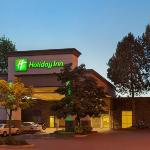 8439 North East Columbia Boulevard, Portland, OR
Pets permitted for a 20.00 USD per night non refundable fee. Pets allowed only on designated pet floors. Complimentary treat and water bowl...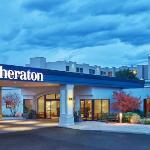 8235 Northeast Airport Way, Portland, OR
Pets are allowed. Restrictions and deposit may apply.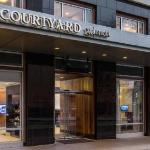 550 Southwest Oak Street, Portland, OR
USD 50 non-refundable cleaning fee Per Stay; maximum of 2 pets allowed; maximum weight per pet is 80 pounds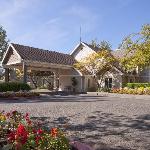 1710 Northeast Multnomah Street, Portland, OR
USD 100 non-refundable cleaning fee Per Stay; maximum of 2 pets allowed
View all Pet Friendly Hotels in Portland