Myrtle Beach Dog Parks
Pet Clinics in Myrtle Beach, SC
Animal Hospital of North Myrtle Beach
2501 US HWY 17 S., Myrtle Beach, SC

PH: (843) 272-8121
Ark Animal Hospital
1011 6th Avenue N. Ext., Myrtle Beach, SC

PH: (843) 238-1414
Banfield the Pet Hospital
1301 Oak Forest Lane, Suite 2,, Myrtle Beach, SC

PH: (843) 946-9700
Myrtle Beach Pet Shelters
Grand Strand Human Society
The Grand Strand Humane Society takes in animals brought in by the City of Myrtle Beach Animal Control as well as those brought into the shelter by members of the community. We are committed to the care and humane treatment of all homeless and abandoned animals.
Contact:
3241 10th Avenue Ext N, Myrtle Beach, SC
(843) 448-9151 (Phone)
Pet Friendly Hotels Myrtle Beach, SC
For many people, pets are not just an animal that lives in the home, but are just as much a part of the family as any other member. Due to this fact, it should be no surprise that besides work, many enjoy taking their pets with them wherever they go, especially on vacation. Over the past decade, many hotels have begun to realize this fact and have been offering more and more rooms that are pet friendly. Myrtle Beach, South Carolina, with its numerous shops, restaurants, and white sandy beaches, hold some of the most popular pet friendly hotels on the East Coast.
(read more)
When traveling to Myrtle Beach with your pet, there are a few things that you should keep in mind. First, make sure that you have a leash for your pet when on the beach. Second, if you leave your pet in the hotel room while you are visiting the beach or pool area, you should let the hotel staff know so the cleaning crew will not get a shock when walking into the room. If your pet is not people friendly, you should house him or her in a cage when you cannot be there to supervise. Enjoy your vacation with all members of your family at one of these Myrtle Beach hotels.
(read less)
Myrtle Beach Pet Friendly Hotels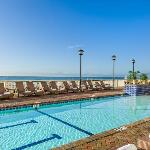 415 South Ocean Boulevard, Myrtle Beach, SC
The Pet/Cleaning Fee is USD170.00. Additionally- we require a refundable pet deposit of USD100.00- which is returned if there is no damage t...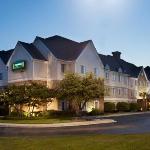 303 Fantasy Harbour Boulevard, Myrtle Beach, SC
Pets allowed with nonrefundable fee. 20 per night up to 150. Pets must weigh less than 80lbs with a maximum of 2 pets allowed. Pet agreement...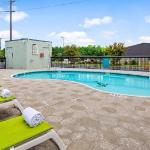 9551 N Kings Highway , Myrtle Beach, SC
Pets allowed based on the availability of pet friendly rooms. Up to 2 dogs per room with a 80 pound weight limit. Additional pet types (ca...
1561 21st Avenue North, Myrtle Beach, SC
Rooms for you and your pet are available. An extra fee may be charged.
710 Frontage Road East, Myrtle Beach, SC
 Pet Charge: 20.00 USD per pet, per night. Pet Limit: 2 pets per room, maximum 50 pounds.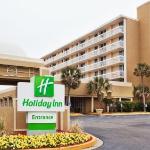 1601 North Ocean Boulevard, Myrtle Beach, SC
Holiday Inn welcomes Fido pets 40lbs and under with a nonrefundable pet deposit of 100.00. Please notify us when making your reservation t...
2710 North Ocean Boulevard, Myrtle Beach, SC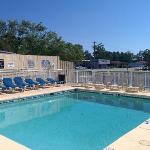 3450 Highway 17 Bypass South, Myrtle Beach, SC
Pets allowed Small Friendly Dogs under 35lbs with a 10 Dollars per night per pet fee non refundable.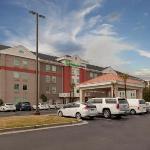 3100 Oleander Drive, Myrtle Beach, SC
The Holiday Inn Express has designated pet rooms especially for our furry friends. A pet fee of 15.00 per day. Pets left alone must be cra...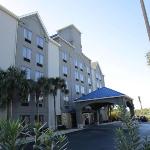 1303 A Tadlock Drive, Myrtle Beach, SC
The hotel is pet friendly and with no weight limit; however several types of dogs are not allow. A non refundable pet fee of 50 to 75 dollar...
View all Pet Friendly Hotels in Myrtle Beach