San Antonio Dog Parks
McAllister Dog Park

Starcrest Dr, San Antonio, TX

Note:

This fenced dog park has water fountains, fire hydrants, benches, walking trails, a shade structure, and doggie play equipment (no separate small dog area.)
Pearsall Dog Park

4700 Old Pearsall Road, San Antonio, TX

Note:

This dog park is brightly colored and has water fountains, fire hydrants, and picnic tables
Pet Clinics in San Antonio, TX
Alamo Dog & Cat Hospital
1619 Pleasanton Road, San Antonio, TX

PH: (210) 922-1231
Alamo Heights Pet Clinic Inc
6488 N. New Braunfels, San Antonio, TX

PH: (210) 821-5544
Becker Animal Hospital
6515 IH 10 west, San Antonio, TX

PH: (210) 732-5148
Leon Valley Veterinary Hospital
6701 Bandera Road ?, San Antonio, TX

PH: (210) 681-1391
Perrin-410 Animal Hospital
8365 Perrin Beitel Rd, San Antonio, TX

PH: (210) 650-3141
VCA Mission Animal Hospital
2822 Pleasanton Road, San Antonio, TX

PH: (210) 923-7582
San Antonio Pet Shelters
Humane Society of San Antonio
A no kill shelter saves both healthy and treatable dogs and cats with euthanasia reserved only for unhealthy and untreatable animals. The Humane Society of San Antonio has a 95% save rate.
Contact:
4804 Fredericksburg Rd., San Antonio, TX
(210) 226-7461 (Phone)
Pet Friendly Hotels San Antonio, TX
According to the American Pet Products Manufacturers Association, 39% of US homes own at least one dog. There are over 93 million owned cats in the United States, as well. More and more pet owners are choosing to take their pet with them when they travel, as opposed to putting their beloved in a strange kennel or arranging for home care. This has become easier as hotels have started to open their doors to four-legged as well as two-legged guests in an attempt to accommodate their customer base and bolster business. There are many San Antionio, TX pet friendly hotels, which means the family pet can be included in travel plans instead of being left out.
(read more)
Although it is not difficult to find San Antonio, TX pet friendly hotels, keep in mind many of them will ask for a pet deposit or a non-refundable pet fee in addition to the cost of the room. Travelers should advise the hotel in advance when making reservations that a pet is involved, and ask about the pet policy. When arriving, verify the spots in which the pet may be exercised and able to go to the bathroom. This way, there are no surprises for owner, pet, or hotel management, and everyone can enjoy a relaxing and fun vacation.
(read less)
San Antonio Pet Friendly Hotels
8318 IH 10 West, San Antonio, TX
300 East Travis Street, San Antonio, TX
The hotel permits dogs that weigh up to 40 pounds, and provides a dog bed, a bowl, a mat, and a pet welcome kit. A pet owner must sign a lia...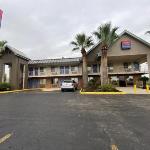 6861 Highway 90 West, San Antonio, TX
One well-behaved family pet is permitted, at no additional charge. Pet must be declared during guest registration and kept on a leash when ...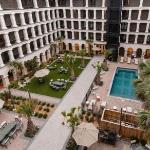 37 Northeast Loop 410 (at McCullough), San Antonio, TX
Pets Allowed. Maz Size 50lbs. 75.00 Non-refundable fee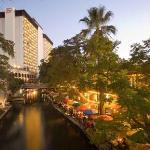 200 South Alamo Street, San Antonio, TX
Pets: Allowed Maximum size: Large Maximum weight: 75 lbs Pet Service Fee: USD 75.00 Non-Refundable Fee Kennel: Bed & Bowls Limited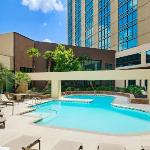 611 Northwest Loop 410, San Antonio, TX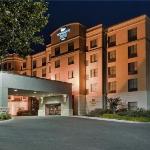 125 North Loop 1604 West, San Antonio, TX
Pets Allowed. Max Size: - 0 ( small pets allowed, $150 Non-refundable cleaning fee ) USD
205 East Houston Street, San Antonio, TX
We are a pet-friendly hotel and are happy to provide a pet-friendly floor. Guests are welcome to bring a furry friend weighing up to 40 poun...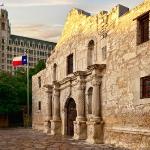 705 East Houston Street, San Antonio, TX
Service animals permitted. Pets allowed - max weight 50 lbs, max size large. Non-refundable 50.00 USD fee. We offer our Chef's pet menu.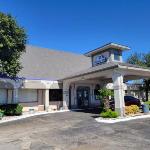 4039 East Houston Street, San Antonio, TX
Pets Allowed. There is, however, a one-time $20 charge for them
View all Pet Friendly Hotels in San Antonio