Seattle Dog Parks
Dr. Jose Rizal Dog Park

1008 12th Avenue South on North Beacon Hill., Seattle, WA

Note:

There is a 4 acre fenced dog park and an unfenced area of the park that is also off-leash
Genesee Dog Park

4316 S Genesee St. and 46th, Seattle, WA

Note:

The city has sectioned the park to let some areas rest while leaving the rest of the park open. The middle of the park is gravel which helps with mud. This dog park also has a water spigot.
Golden Garden Dog Park

8498 Seaview Pl. NW, Seattle, WA

Note:

This park is covered in wood chips, benches, and has trees for shade. Dogs are not allowed at the beach or on the playground.
I-5 Colonnade Park

Beneath I-5, south of E Howe St., Seattle, WA

Note:

This 1.2 scre dog park is located under I-5 and is shaded and protected from the rain. The park is crushed gravel with benches and a water spigot.
North Acres Dog Park

12718 1st Ave. NE, Seattle, WA

Note:

This park is in the north-east corner of the park and has shade from lits many trees. It also has benches and a water spigot
Regrade Dog Park

2251 3rd Ave., Seattle, WA

Note:

This park is small but it is in a prime location downtown. It has a water spigot.
Westcrest Dog Park

9000 8th Ave. SW, Seattle, WA

Note:

This park has a separate area for small dogs, benches, shelter, lighting, and shade trees. There is water when the hoses are working. Parking is at 8th Ave and there is a bit of a walk to the off leash area; there is a little parking on the surrounding residential streets.
Woodland Dog Park

Aurora Ave. N and N 59th St., Seattle, WA

Note:

This fenced off leash park is a sloped park with benches, trees, and a water spigot. The park is behind the tennis courts.
Pet Clinics in Seattle, WA
Broadway Veterinary Hospital
1824 12th Ave, Seattle, WA

PH: (206) 322-5444
Eastlake Veterinary Hospital
1536 Eastlake Ave E., Seattle, WA

PH: (206) 328-2675
Elliott Bay Animal Hospital
2042 15th Avenue West, Seattle, WA

PH: (206) 285-7387
Queen Anne Animal Clinic
6857 Woodlawn Ave NE, Seattle, WA

PH: (206) 284-2148
VCA West Seattle Veterinary Hospital
5261 California Ave SW, Seattle, WA

PH: (206) 923-3551
West Seattle Animal Hospital
4714 42nd Avenue SW, Seattle, WA

PH: (206) 932-3308
Seattle Pet Shelters
Seattle Animal Shelter
The Seattle Animal Shelter fosters safe, healthy and caring relationships between people and animals inour community.
Contact:
2061 15th Ave. W, Seattle, WA
(206) 386-4294 (Phone)
Pet Friendly Hotels Seattle, WA
Seattle, WA is a great city to visit with your precious pet in tow. In addition to many pet-friendly hotels in the area, the city has a large variety of parks, beaches, restaurants, shopping centers, and even an art gallery that allow pets. Magnuson Park in the Sand Point peninsula has an off-leash dog beach. There are at least fifteen other dog parks in the Seattle area. Most of them are off-leash parks.
(read more)
There are numerous outdoor restaurants throughout the area that are pet friendly, so if you plan to eat out, you can bring your best furry friend. The University Village shopping center allows patrons to bring their pets. You can take a ride in a horse drawn carriage and bring your pet along. You can bring your pet along with you when visiting many of the lovely botanical gardens in and around Seattle. Or if you want to go for a ride on a ferry or water taxi, you can bring your beloved pet with you. And once a year, there is the annual PAWS Walk, an event set up to raise money to help rescue and treat homeless animals. Overall, Seattle is a great place to bring your pet.
(read less)
Seattle Pet Friendly Hotels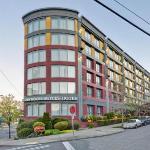 206 Western Avenue West, Seattle, WA
Pets allowed - max 50lbs, medium size. Non refundable fee of $75.00 per day up to $200.00 max.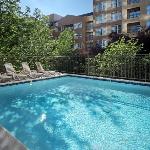 1011 Pike Street, Seattle, WA
Pets Allowed 40 pounds Medium 75.00 Non-Refundable Fee
1112 4th Avenue, Seattle, WA
Pets of all sizes and weights are welcome at W Seattle. A $25 per day fee that covers pet services and amenities as well as a $100 non-refun...
1400 Sixth Avenue, Seattle, WA
We are happy to accommodate cats and dogs weighing up to 80 pounds-one dog or cat?allowed per room. The dog's name, breed, and weight are re...
1000 First Avenue, Seattle, WA
Hotel accepts 2 pets of any size or breed per room with a 40USD fee per stay fee.
2125 Terry Avenue, Seattle, WA
Dogs are allowed up to 30lbs. Pet are permitted at charge of USD 50.00 and guests with pets may only stay at the 3rd floor. Charges are subj...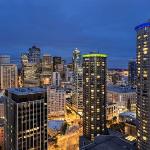 1900 Fifth Avenue, Seattle, WA
We accept dogs up to 80 pounds and all cats. No pet deposit is required; however, a cleaning fee may be added if necessary. Pets must be acc...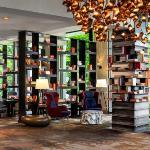 515 Madison Street, Seattle, WA
USD 50 non-refundable cleaning fee Per Stay; maximum of 2 pets allowed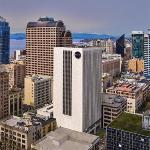 1415 Fifth Avenue, Seattle, WA
Pets accepted, nominal fee. Inquire at the hotel for specifics and exemptions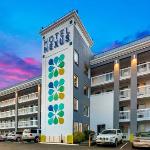 2140 North Northgate Way, Seattle, WA
50.00 US pet fee for each stay. Pet-friendly rooms are available on all levels. No late checkout allowed on pet rooms.
View all Pet Friendly Hotels in Seattle